I am not referring to the dress as it's totally buttonless. In fact, you just slip it on. I'm now on the last 2 rows of 600+ stitches and is going ever slowly to ensure that I don't have to rip out too much.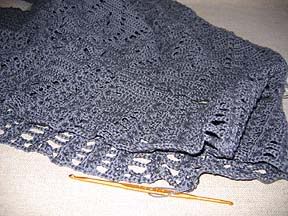 Besides, I do have the excuse of preparing lesson instructions and yarn ordering, inventorizing etc -- all of which are eating into my crochet time?

Remember the sari bag? Last week, I also went for the button shopping trip. It was the second one as I couldn't find anything I liked in the previous trip where I visited 2 stores. The buttons I saw are either synthetic (read: plasticky, tacking looking) or not sufficiently big enough.

I did, however, chanced upon this lovely wooden button.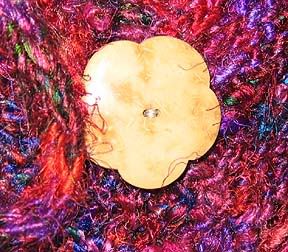 It contrasts nicely with the sari yarn bag and is simple & chic. Here is another photo of my carrying it.
Please just kindly ignore my flabby arm and refrain from making any comments about it -- it's hard enough to shoot myself with the other hand as it is. [grin] As you can see, it's good enough to contain my cards, tissue paper, keys and my mobile phone when I head out. This bag is going for a test drive with me soon.
As for the dress, if I work hard enough; the crochet hook should be off in another day or two.