Nothing illegal about my addiction.

I am just so captivated by the current latest crochet project that I am making more headway than I am used to. I can sit for hours to crochet this baby. In fact, it's growing big enough for me to try on.


I can't do this photo without my top beneath lest it gets R-rated. This is a snug fit garment by the time it's done. No one's fault. I just like my outfits to have very little ease to show my curves better since they are almost non-existent -- so small crochet hooks it is. I wonder if anyone manage to figure out which pattern I am using.

In fact by 10am this morning, I have gotten started on the next section.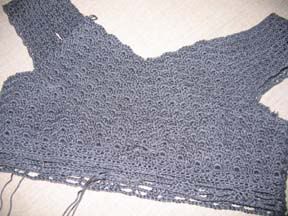 If you look closely enough, you will realize that I have ripped out the yoke a little. Save for turtle or funnel necks, I don't like my collars to be way up high as I get the feeling of being chokey all the time.

I haven't forgotten about hubby's vest though. It's already at the armhole divide.


It's getting too heavy to really tote around -- I used to carry this project in a big Harrods bag so it may languish as a stay-at-home knitting project now. Hubby also needs to decide if it's a round or v-neck collar he wants.

However, here's a lovely completed vest by Leena -- her very first knitting project!


There's a sweet story behind this one. If you want to read about it and see how this vest looks modelled, click
here
.



On a separate note, I am working on a square for
Click on the button to find out more!