Since the crocheted beret (or newsboy cap as I found it's really called) is completed, I have gone back to my WIPs and did more work.

Remember the sari yarn? Honestly, I finally got around to knitting it when I saw how beautiful the colors are when
my student started knitting hers
.

2 days ago, I just ripped out the earlier piece and casted on proper for my project.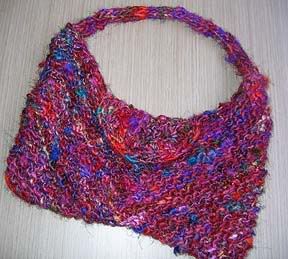 See it's a bag!
The photo shows it pre-wash so I need to give it a good soak. If anyone is leading me to temptation, it's got to be my student Christine for she is so into bags. All that is missing is a nice big round wooden button. I'll need to hunt for one soon.

So with one more WIP-turned-FO, you know what I did next...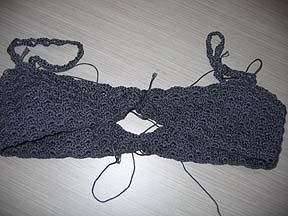 Yes, I just did...started on a new project again! This time, a crochet piece. And I am going to say, "My students
just started on their very first crochet projects
and I am going along with them for moral encouragement too!"