Thanks for all your participation in the shawl polling.
As it stands:
53% of you suggest that I leave it as is.
41% thought that it could be bigger.
6% wants to see it ripped.
Well, guess what?!
I just measured the shawl across and it's about 32" in diameter when blocked.
So....I am likely to rip and reknit to a bigger shawl size!
Yes, you heard me right...I am not out of my mind yet; I still love this shawl pattern enough to attempt it again. This time, on way bigger needles!
Hubby and I have planned for a quick getaway this weekend with our friends so this will be my travel project since we're driving up to KL.
Bye, bye shawl...
On the other hand, the blue shell is coming along nicely. I have finished the back and now onto the front.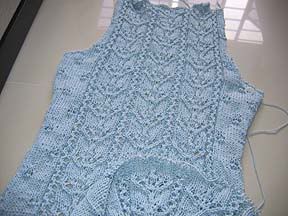 That's where I noticed this: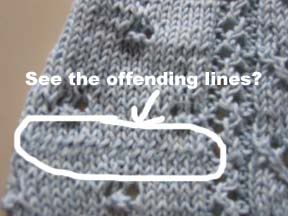 2 rows of unbelievably loose tension. And I decided to do something about those 2 offending rows that is staring right into my face -- I am not about to back down a dare. And so off I went, grafting them.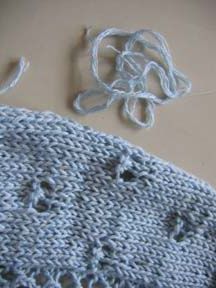 I figured that the loose tension might have arised from my unravelling earlier. The plying of this yarn doesn't lend it to much unravelling and re-using. And I am knitting at a tighter tension to get it look *right* for this shell and basically, making my needles blunter by the minute.

If everything goes accordingly to schedule, by next week, these 2 should be FOs!
PS. If you did try to get to my blog the last few days and couldn't access my site, that's because my site was on a bad file server and they had it down for a migration. But I am happy to be back on live!