While nervously waiting for your observations and feedback on the shawl, I was trying hard not to chew my nails or start snacking. I have the whole apartment to myself and hubby is staying in at work.

We haven't got a TV so no channel surfing. Yes, TV-less for about 9 mths now...which is unusual in Singapore context. Everyone looks at us incredulously when we say that and ask how we manage to survive without it so it's obvious that most of our Singaporean adults are TV addicts or couch potatoes. (Actually, I'll include our friends' kids too...they miss their PS games when they drop by our place.)

Keeping my hands busy will take my mind off things. So with the radio on, I decided to do some quick pattern browsing -- actually it's more like tortously trying to decide which pattern I want to start first! Besides, all my students are having so much fun knitting their garments that I had to join in too.
So I casted on something new. At midnight.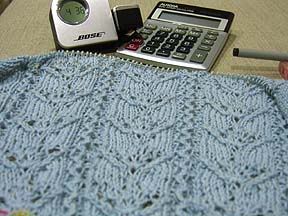 Here's the obligatory one ball shot at 4:30am in the wee hours.
As usual, I spent a fair bit of time with gauge re-calculations since the pattern is a little too generous on the ease for my liking -- meaning both the stitches and row gauge. And I decided to choose a delicate blue cotton/hemp yarn which is unusual for me - I am usually the kind to go for strong dark colors.
It was a battle between 2 long sleeves and this shell top. The heatwave we are experiencing in Singapore lately, along with possibly more haze coming from the neighbouring countries being reported got me thinking that a knitted shell is a more sensible idea at the moment. But I've been known to be irrational with my projects selections at times -- like my knitted round shawl or the crocheted one.
With luck, I may get round to finishing this soon!