It's very important to commit a chart to memory. Here's why: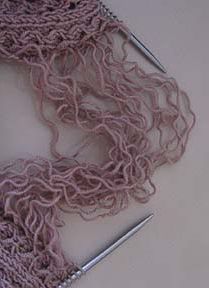 The *crime scene* took place at 2 particular rows and they were an eye-sore. To make things worse, they occurred at 2 repeats with double dose as the panel is repeated (see below photo.) I was determined to fix them by dropping the stitches rather than to re-knit those rows. Especially since almost every other stitch has some cabling action that makes rowing work real slow.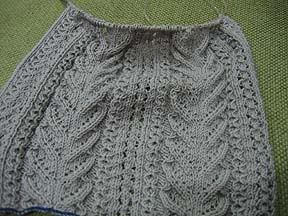 This shrug is now moving along quickly though I ended up not knitting much on it today. I popped over my sister's place to visit my cute little niece. Babies really do grow at an amazing speed!
PS. The first photo is more representative of the yarn color.
PPS. This yarn is going to be part of the yarn range I'll be carrying shortly.

After all those modelled shots, I am now so tempted to pull out all my knits to model and re-shoot all my FO photos! Yes, I should be praying for another bout of rainy day so that I can have some fun!
See the photos below? The exact same tank top... *sigh* Looks like I need more lessons in the photography department.