Wondering about the title of this post?

Pretty much sums up what this yarn is making me do. I found this partially done WIP in one of the bags which I have absolutely no clue what the original pattern is (though I spot some sleeves). But I am almost very sure that it's one of those yarns that has been giving me grievances as I saw a new project that I was somehow knitting out of a completed piece.


Anyway, I decided to rip everything and start all over again.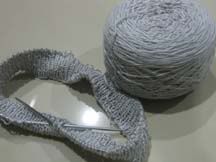 Sounds simple right? But if you are one of those who love ripping WIPs and reuse the yarns, you'll know what the problem is -- the yarn is so curly from its previous form that my knitting is so uneven! I know, I know; washing would even the tension out.
But I am so annoyed. I am intending to start this as a mindless project to tote around for my Taiwan trip this coming weekend. Ugly knitting does no good for holidays!
So here's what I did:

Skeined it...
Gave it a long bath soak in softlan (while I was having a quick shower.)



And hung it out to dry.

Doesn't the yarns remind you of noodles? If it airs out tomorrow nicely, I'll re-cast on again!