That's right. There is a couple of darling angels out there who are thinking of me.

Remember
Celia
? Here's the loot she brought along for me...all that fibery goodness!


Aren't the colors lovely? She's got me some white merino so that I could have a go at dyeing too! You'll probably not see their appearances for a while as I have yet to master proper spinning techniques -- I am tough with myself.

She also gave me a little surprise.

An Australian published magazine called Creative Knitting. There's a crochet shrug in it that we both liked though -- there's the yarn name but no gauge or whatsoever! Right, I'll *indulge* in deciphering this mystery (we've both suspected that it's likely a 4ply yarn judging the garment photo on the model.)

Oh,
Ruth
... Celia and I did finally get around to taking a photo together -- that's about 2am in the morning in her hotel room but we aren't at our best [think: red teary eyes, stifling yawns etc] so that photo isn't going to shown to the world. (Actually Celia looks great, it's just me.) We'll try and get a better photo the next time.
Other items arrived in the mail too.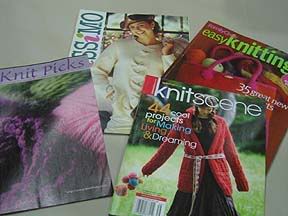 Dear Cherilyn, as usual, wowed me with knitting and crochet magazines that I can't get around here in Singapore. This time, she even included a Knit Picks catalog! What can I say? I really have to send big hugs to this sweet dear!
Here's the other package.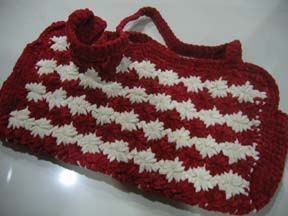 It's a bag from Valerie. Isn't it gorgeous?! It's a round-robin so I am sending out a bag to someone else. I'm way behind schedule so I really hope the bag I am sending will make the recipient happy enough to make up for the delay.
X'mas is definitely around the corner! Arghh! So little time to knit, yet so many wish projects!
[I am sure by now everyone who reads my blog realize that I have a magazine fetish, loves bags of all sorts, apart from yarn hoarding. What does that make me? ]