Or should I say: Camera, finally? [LOL]
Ms Clappy bundles up in excitement.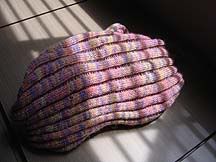 Since I've been toting it around for a long time, I've decided to send it for a long-awaited bath. Then Ms Clappy decides to do some tanning.
See the amount of sun coming through? I think that's gonna be my favorite spot for blocking my future projects. (grin)
By nightime, she's all ready.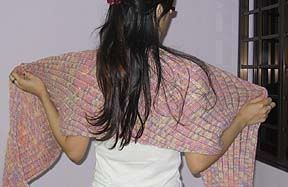 Can't tell you how pleased I am with this shawl... Ms Clappy took about 7 balls as I wanted her to be long enough to wrap me like my pashmina does and she does take a lot of my knitting time.

Maybe it's the endless home stretch?!