of goodies...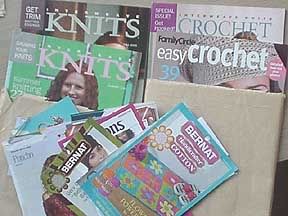 Here's what my dear friend, Cherilyn sent ... she knew I am in a crochet phase lately so in the packages (she sent 3!) there's current and back issues of various crochet magazines.
Not only that, she was kind enough to send me lots of leaflets from an October festival which features a lot of classes, yarns from various companies and mills etc. I could *feel* the atmosphere even as I am flipping through. I really need to spend some time to go through these gems with a cup of cocoa.
Oh, and some take one pattern leaflets too!

Thanks Cherilyn! Now, it'll be my turn to reciprocate....how about yarns?