The no-blog content lately is a result of my slipping away for a quick trip to Bangkok with hubby & Zira. You can read more about our trip
here
and
here
. Nothing to report on yarn quest since I didn't go out actively to lookout for them. We are just tired from an all day walking at the famed Chatuchak Weekend Market where we started at 11am and ended at 7pm -- a good whole eight hours on our feet!

Luckily Zira didn't come with us on that trip else she'll be drenched. We got caught in a heavy thunderstorm in the late evening and had to waddle through the water choked streets within the market.


But imagine my surprise when I discovered this package when we got back home!
A pair of newly knitted socks just for me!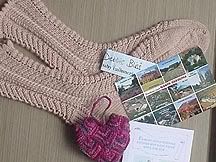 My
Sockapal2za
partner, Barbara from NC has sent me these lovely petticoat socks (made from Debbie Bliss Cashmerino, no less!) and a wonderfully scented lavender sachet that's made out of Koigu!

And of course, you want to see my clothed feet, don't you?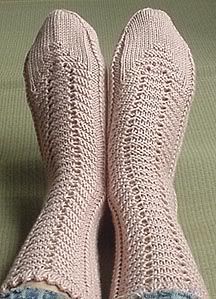 Hmm, they are so soft on my aching feet. They are definitely much appreciated! (Just ignore my long toes will you?)

Thanks so much, Barbara... I am a woman with happy feet :)
PS. Baby KAL update will resume this week.