Look at what just came in the mail last week!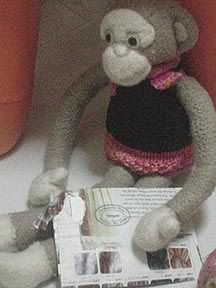 Zira had the honour of checking it out:- it's a lovely crane RAOK from Julie of
http://stoneview.typepad.com
! Isn't Julie wonderful to think of us international RAOKers?

Notice that little tear corner? I suspect some postman must have been trying to figure out what's in the contents! LOL
Not only that, see the envelope? It's a page from Knitpicks catalog! It almost killed me because Knitpicks don't ship internationally. I was drooling as I kept flipping & rotating the envelope in all angles to get a closer look at all the lovely shades! I even resorted to using a cutter to get the envelope to unfold properly to check out the inner page as well :)

Julie, now you do know that your RAOK presented double glees to me.


Ruth is in town!
To top it off, I had a great start to this week, made better by
Ruth
's arrival. Both her hubby and her are in the region visiting some relatives and we caught up for a quick lunch. Shame that both of us forgot that we brought our cameras and didn't get to take any photos! Believe me when we said the meetup was good as she went about with pattern book enablement (I am great at facilitating purchases! LOL) but those references & pattern books are in Japanese which is really difficult to come by in the US -- those are the reasons why we all shop when we are overseas right?


PS. Thanks for those great comments on the baby booties! The mom loves it so much and so do many of the guests who woo-ahhed over them. In fact, I thought those yarns worked out so nicely in crochet (yes, I even used them for the commissioned projects) that I went ahead and ordered some more colors! LOL!