First off, let's welcome
Jenn
!
In the completions dept, we have
Jeanne
who has a gorgeous baby blankie to boot and is already onto project #2! And
Penny
have more of those cute hats to show!
Christina
is already planning for her new baby project (this gal just keeps churning out impressive baby items!) and she is torn between choices. Go over and let her know which one you'll choose!
And I just whipped up a pair of crocheted Mary Jane baby booties for my friend's baby shower this coming Sunday. It was a quick crochet project with instant gratification (yeah, need that lately!) and was done within a couple of hours.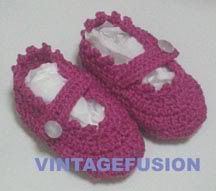 The colors are so bright and chirpy; amazingly it's 100% cotton! I think these cotton crochet booties should wear well in our humid Singapore weather. The yarn's part of the line that I am carrying. [Dangerous road I am treading on, eh?]