On a related post on stashing, I have a question to ask:


Does anyone get fanatical about knitting or crochet that they end up collecting ornaments/figurines too? (Knitting or crochet related, of course!)
My answer: I DO!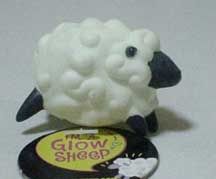 A tiny sheep that glows in the dark! It's just barely 2 inches wide! I saw it in a stationery store and had to grab it.

And the next one is something that I like very much.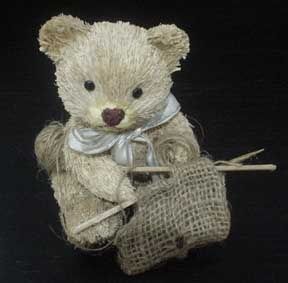 I bought it 4 years ago when I was on a post-lunch power pacing trip. (See, after lunch window shop walkabout is good for ya but bad for the wallet! LOL) This figurine seems to be made of some scrubby material. But it's so rustic and bearing (pun intended) for the bear's fur!

This felted bunny set is just way too cute! The blogger gifted it to Yarn Harlot.
And I keep seeing some of these cute wooly pals. Makes me wish more of these items are available in Singapore, like these tape measures, knitting charms and these are just so omigod! Talk about having your hobby on hands all the time or bringing it to the table!
Ok, I must be getting all sorts of crazy ideas from the past few days but I'll welcome anyone to send these to me! If your closet can't take any more skeletons, please feel free to hide them in mine. (grin)


"Me? A stashing queen?"
Now if what Toni claims that's who I am, I have to seriously go reflect upon my misdeeds. No more flashes perhaps? Or should I just go reflect and face my yarns? I'll gladly do that for hours!
I'll go send some packages out to charm some others tomorrow!