My secret pal sent me an email just 2 days to say that she's sent out something to me. Guess what, the package turned up at the doorstep this morning!
Of course, my dear SP took the effort to send it out via Priority Mail [it took just 5 days from France to Singapore] and I am guessing that I'm probably among the first few lucky participants in Asia to receive this. The next time, you could just send it via normal airmail -- it'll just take 2-3 weeks so you can save a little more on postage :)
You don't think I am going to sign off without a photo of the goodies, would you? Here's the loot: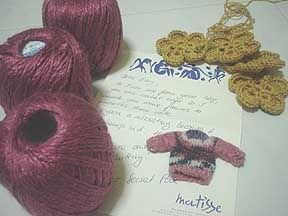 See that pink yarn? That has hemp in it -- something that I always been wanting to try for a while! Those colors are so *ME* too. And those flowers are for my bag embellishments!
The mini sweater on her note is so irresistible that I'll have to loop it onto my carrybag! Just before my sister snatches it up.
Thanks so much, secret pal for brightening up my otherwise duh day!
" Mayday, mayday: I am working on my package to go out soon. Over."