Remember my comment yesterday on Mom wanting to crochet herself a purse?
I shouldn't have blabbered and jinxed it. Look what happened...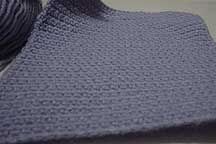 There's nothing wrong with it...and it's all in your mind, you'll say.
She decided after 5 rows that her speed is too slow.
So her instant gratification?
Have her daughter crochet it.
So I went, picking it up and crocheting it last night. The endless rows of single crochet almost lulled me to sleep the way st st does. So I decided to put my multi-task skills in action: web surfing & reading others' blogs simultaneously when an amusing thought struck me: is it possible for one to train her foot to scroll the mouse?


I can knit without looking (ok, it's stockinette, nothing like cables nor lace) but on crochet, that's a big no-no. Maybe I am just not trying hard enough.

[So in case you wondered, I was bobbing my head up and down alternating between take peeps at the monitor and my crochet on hand.]

And if you are reading this paragraph to find out more about my World Guiness feat attempt, forget it. My feet does not like to be on the front page of my blog today.
So back to mom...
She handed me my crochet and eagerly tested out that used sewing machine she bought. Ahem, she's a hoarder; I inherited her genes. She bought a new one and decided that a used late 90s version would be just as useful and at less than half the price, why not?


Bad idea, she caused a power trip less than 15 mins testing it. This will teach her:

instant gratification always comes with a price.