It's been another episode of hectic week for me (us). We've spent an entire afternoon walking 3 locations, which accordingly to my other half is an estimated 5-6km?! to browse the toilet accessories shops. They are just like yarn purchases:
cheap but the quality is yucks;
stylish and chic & the price is high.
He decides then that after all the effort we went through to get the renovations of our apartment going and installing designer tiles for the toilets, it's no point trying to get cheap toilet accessories as they will be eye sores and won't fit in. (grin) At least this guy understands why I spend so much on my hobbies, on yarns and needles. Besides, he concedes that good quality last way longer and is much more pleasing to the eye. I can't agree more on that. (Darling, does it mean I can buy more yarn?)

We also made a trip to Ikea to buy some wooden blinds that would look great at our balcony.


In view of the running around, I abandoned hoodie for a quick and portable project. This is it: a crocheted wrist bag.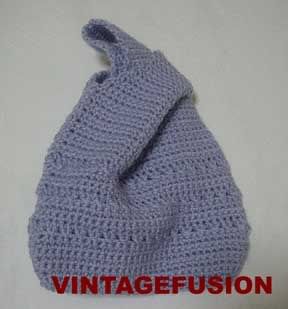 Pattern: Free online
Specs: 50g Magum acrylic from my stash, crochet 6 needle
Some things to note: Should be easy to upsize as needed. I will try another way to work this circularly the next time so there's minimal sewing
Time taken: a day and half

It's something really simple. My sister likes it so it will go to her.

And guess what? My mom has caught on the crochet bug so she is using this yarn to make herself a coin purse too.