Siow Chin of Little Purl of the Orient, wrote
this entry
that's thought provoking: When's the last time you stayed 'monogamous' to a project? Personally, I think when it comes to my hobbies such as knitting and crochet, I multi-handle waaaay too much. I have several projects on hand so that I can alternate between the intricate and the mindless. And sometimes lacework vs cables. Or even fine 4ply vs DK weight yarn. That's me; a crafty polygamist :) I can't quite recall the last time I tried to work on just one sole project.

Remember that deflated balloon that was meant to be a diversion from my non-progressing hoodie? "A stuffed pear" - that's my hubby's observation on Friday night though he knows I am not that crazy to go into fruit crochet yet!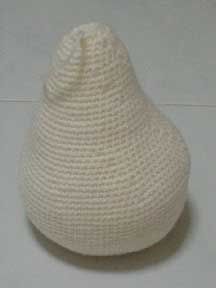 Not quite the word I was looking for. Getting worried.
Witness the transformation within 24 hours.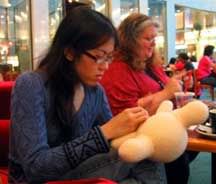 Yes, I brought it along to the special edition of Knit & Stitch on Saturday as it's meant to be gifted that evening at a house party.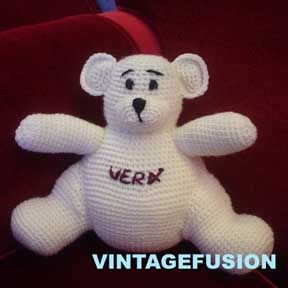 Why... it's a Vera bear! A little gal named Vera is the lucky recipient. Hmm, I didn't know what kind of reaction to expect from little gals on receiving handmade gifts. Her parents are impressed though. I *heard* she has 10 teddy bears so perhaps that accounted for her 3 seconds pause take on "I made this just for you" comment! Drats, I should have made a bunny for a bigger impact I suppose. But she did thank me for the bear...she's quite a shy gal.

Here's the details:


Pattern: Bernat pattern
Specs: 80g ball yarn (acrylic), used Clover Japanese crochet needle size 6
Some things to note: Easy to follow instructions and just don't panic when the body looks like a pear! LOL
Time taken: 24 hours turnaround
See what I mean? When one's totally engrossed or focused, time really flies!