Look what I have started today! Some crochet work!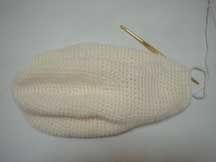 What do you think this resembles? A deflated hot air balloon?
I am being a little ambitious. I want to finish this tomorrow at the Knit & Stitch meeting. Let's see how well I fare ok?


Hoodie update
I am finally on my second sleeve. Things are looking a little brighter.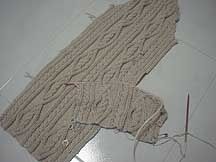 Mom's telling me how much she liked this color. Yeah but this garment *isn't* meant for her. But I do get the hint. I shall get some yarn in this color to make her something. Oh, and she did mention fine yarn for the hot weather. So it's gonna be "3-4 ply, light toffee color yarn" for a tank for her.

She'll have to wait until after Mother's Day. :)

Oh, and did I mention the good news? Mom decided that she'll like to venture into the world of sewing again so she bought a sewing machine earlier this afternoon. That means I can get into steeking (cos I so want to make this cover jacket from Poetry in Stitches) or making fabric totes from now on! Fantastic! When she gets sick of the machine, I'll gladly take it off her hand. LOL.