See? Me like it...it is a toe up pattern. The bind off took me longer than I thought as I had to do the sewing bind off which is supposedly more stretchy. This sock took me about 6 hours to knit and another 1.5 to sew. Let's see by how much my record for the 2nd one will be improved.
For the first time, I now do appreciate variegated yarn :) I think this yarn would work pretty for a plain, simple tank too!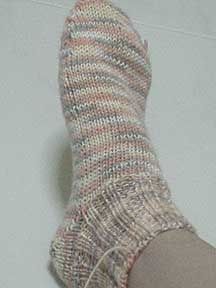 Oh, and when measuring, it's indeed being proven that I have abnormal feet. My foot is 1cm longer than my widest part and my ankle is 3.5cm narrower than the widest part too.

In short, just totally inproportionate.

Good grief!
Now I know why I *keep* wearing the toes off my socks so quickly when I was young! My mom keep telling me to keep my toenails short and tidy but it seems that it's my long toes that's been the culprit. Ha!
Cabled hoodie sweater update
I completed the back and now on one front piece.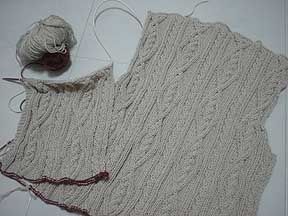 It's looking good and I think I will get onto another project. Once I've got my sock a partner.