Lookie!

My first very own pair of knitted socks

They are nothing fancy but oh, they really do make me happy!
Here's the details:
Pattern: Toe up pattern, "Simply Socks Plain and Fancy" from Priscilla Gibson-Roberts
Specs: 50g ball yarn (60% wool, 40% viscose), used Clover Japanese needle size 3 mm needles
Some things to note: Nothing too complicated but must interpret the instructions very carefully. Especially on the decreases. The k2,p2 bind off was a killer but I'll love to practise a lot more to perfect it! The socks are good yarn busters!


Another RAOK!
Look what Carrie of Southern Fried Knitting sent! A great pick me up card! Thanks!


And because of the wonderful mood I am in, I am making quick progress on the hoodie.
Debblie Bliss Hoodie Update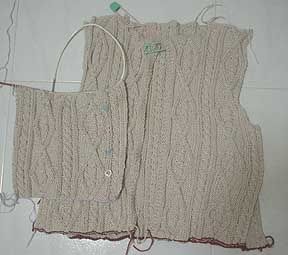 I am on the sleeve island now. And given that long limbs are characteristics within the family, I am lengthening the original stated 17" sleeves by another 2 inches. But interestingly, the # of stitches required for the cast on of the sleeves is more than one front panel -- the sleeves will turn out comfy to accomodate a tee-shirt on the inside.
It's so good to be loved; that sense of comfort evoked by the handknits, or by random acts of kindness from faceless friends on this blog world who will cheer along with you and never hesitate to send surprises to lift your spirits up when the going gets tough. I am so blessed to be part of this community that continually touches me with their kind thoughts and gestures.
Thanks to you all!