I've been keeping myself busy for the past few days.

Meetup migration
We had news that
meetup.com
is gonna start charging monthly fees effective May 01. It's US$19 per month which we don't have since the meetup we have is free for all. So we've decided to *move house* - yea, moving both online and offline (my own apartment). What co-incidence!

Anyway, we had our Knit & Stitch meeting last Saturday. Here's some photos:




You can see everyone concentrating really hard on their projects. I captured these moments of serenity when we're done with our yakking! (grin) Oh, Erin and Bonnie, I'll make sure I remember to fish out my camera much earlier the next time so we get more Kodak moments ok?


My Sock Partner
Having meetups are really good incentives to get one off their butt. I decided to cast on Sock#2 Sat morning. Here's the progress to date. These
Tim Tams
are really great energy boosters at 2am in the morning! Wished I should have bought more the other day. And I just realized they had limited edition white Tim Tams?! Geez, now I'll *never* be able to get that here in Singapore.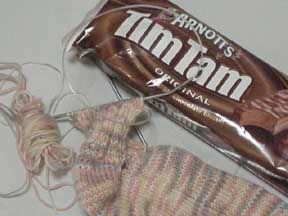 Baby Knit/Crochet Along
I haven't started anything yet but is having a great time looking for the various free links. They are on the right sidebar. New participants are also added.
Chocolates just keep me hyper.