First the updates:

Sophie
is making a cute little gal's top but seems to be having a little frustration with the neckline. Lookie!
Emily
just attended a baby shower and has even knitted a cute garter elephant toy for her nephew to be.
Kimberli
has just began another pair of baby booties (pattern found on Interweave Knits website) on *ahem* dpns.
MJ
is working on a 3 year old sized Smock Jacket from
Debbie Bliss' Celtic Knits
.
So, here's my contribution to the Baby KAL: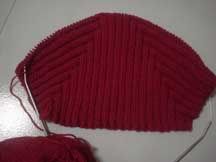 Anyone can guess what this pattern is? After all the light and pastel shades I have been working with lately, this is a great change! Not only that, it certainly brightens up my blog entry :P