I've gone button shopping to dress her up earlier in the afternoon. There is nothing that catches my fancy. These ones become my final choice as they are
small and
purple!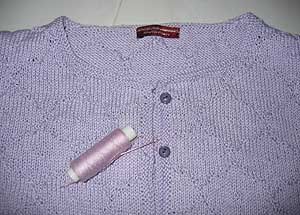 I am easy to please at times. (grin) I've bought some yarn intended for my overseas friends. (That latter part of the sentence is my *permanent* excuse...) So I am not showing them here. But if my gal friends don't like those yarn or colors, I can covet them safely for myself huh? It's easy to tell I am in denial.
But hey, I *did* complete a project today so I am entitled to some yarn purchases. Lys also agreed to give me bag discount though I am not sure how much; I'm picking up those yarns tomorrow.
Here's a closeup: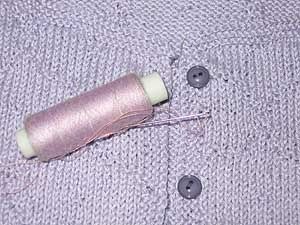 Fooled you, did I? I have taken this photo before I sewed the buttons. I have to use regular thread as the button holes are just too tiny.
By the time you read this, I am all done sewing these up. No finale photo today as I think the curling edge is irking me so much that they will be wet blocked tomorrow. But I promise to get them up within the next couple of days.
Interestingly, this took 4+ balls of Sirdar Pure Cotton 100g. And I still have 3.9 balls in this lavendar color and a ball in white. Any trades?
Getting more projects on hand
I think I need to put up my stash sometime in May for trades so that I can get more exciting yarns.
In the meantime,
I am probably gonna be sending out some packages this weekend. Some yarn for knitters and completed projects for others.
I've
just promised an ex-colleague, a good friend of mine that I would knit up a scarf as a birthday gift for her. As usual, I am always getting myself more knitting projects that I could handle. She wants it white and I am thinking wool for Beijing's cold winter.
Speaking of white, my younger sister also demanded that it's time I knitted her another garment. The first one I made her was about 8 years ago. This project is what I've been *thinking* to knit up for myself.
(Click on the photo if you want to see the book cover)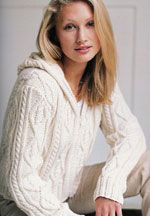 See the similarity?
1. They are both white and I have no white yarn in my stash.
2. It has cables; just like Mariah!
I am dreaming white cables tonight....
From the comments
Siow Chin asked about the labels. I ordered them from a source in HK with a 1,000 pc minimum. Nope, I didn't think I will be able to use them up in this lifetime. But I just did a quick calculation that proves otherwise.
Assuming if I knit up to the age of 80, there's about another 50 years to go from now.
If I can average 20 FOs per year, that's 50 x 20 = 1000 labels!
To meet these guidelines, I would probably end up with small projects just trying to keep up the numbers. That's wishful thinking but at least, I have managed to use 2 labels so far :)