Our Feb Knitting Meetup Today
Brought forward because Cara's need to go away on a CNY1 home trip and I didn't want to have it in the latter part of the month. We had a new friend (hi Erin!) *waving* drop by. I didn't realize how lousy the location would be. There was a tentage next to the cafe and they had an MC that was playing music and talking to attract crowds to sign up for some credit card. Durh, we should have engaged him to be our crowd puller. But either way, it got a little loud and distracting for us gals. Still good, nevertheless.

On my FO albums
Ladies, I just checked...Imagestation doesn't require you to register. You will indeed see initially the thumbnail sheet. Just click on the thumbnail so that it will bring up the larger photo. Else, you can click on slideshow (just under the album name, once you are on the site) so that it auto runs.

Erin,
this is the pattern
for the halter that I was wearing today. Hope your daughter would come along the next time.

And here is is the very "gu niang" (Hokkien for: "lady-like") hot pink furry scarflette that I was talking about this afternoon. Not quite me but every lady has one of those "little gal's days" right? I have to admit it looks gorgeous with my small black dress; tied around my neck. Wore it to the Jaguar XJ launch event in Beijing early this year. Does this motivate you to check out the other stuff?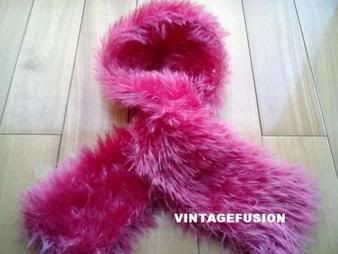 Don't you think it matches my blog well?
This scarflette took a skein. Imagine I have another 20 skeins of this in that light chocolately color...still in those cartons. And some with mini ball slubs on it...yes, fur + ball slubs. Hmm...what treasures do I have...can't wait to have a unpacking session in May. I should take a photo inventory of all the yarn I have and you can frown on them then.


From the comments
Siow Chin said: "I wanted to order from KnitPicks too but they don't ship ex-USA and Canada."
Well, thanks for
telling me. I didn't realize it at all. Hmm...good deterrant strategy, say no to this SG stasher! To think that I was drooling over Shimmer in their Turquoise colorway...alright, I will just sit in the corner and convince myself that Alpaca can't be worn in Singapore's weather *sulk*
Lauren said: "That Tabby Tail yarn looks like fun! I am excited to see what you make with it."
I would err on the side of caution. I am waiting for kitty tabby tail to tell me what it wants to be. It's still purring at me.

For Kitty Kitty, the yarn's details are as follow: Tabby Tail, from RichMore, 50g and it's 15 metres?!!! 2

Ms Saffron is letting me hold her lower arm now. It's a good sign. I will move up soon. Did I mention that I want my next project will be knitted 4.5 - 5 stitches an inch? That'll help me exercise other sets of muscles on my hands, arms and shoulders.

Hmm...blogging titles are beginning to challenge my creativity. Apart from the last bland title, this is one of the first where I couldn't quite my hand on what title to use. Is this normal or does it just happen to boring people?

*1. What was I thinking when I posted the Feb 02 entry? CNY is next week on Feb 09!
*2. Yikes, that's quite a tail yah? Looks like I have to go into a more indepth *black magic* consultation with Siow Chin.