Little Brownie is done.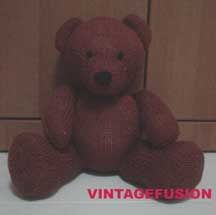 Actually she's not so little as I could snuggle her in my arms just like any gal would. She's gonna be named Brownie becoz of her color and more importantly, reminds me of the tingle of happiness one gets when chomping on brownie cookies. (yum!) I think I'll dress her up a bit with a blue ribbon later. Now, I can finally put my Bear-Along as one down.

Ms Saffron debuts
Apart from that, Ms Saffron makes her debut appearance as well.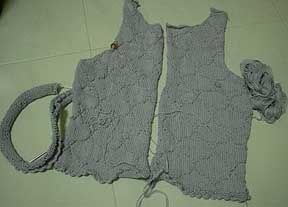 Another of those good yardage yarn, I say. It's only been a ball of Sirdar 4ply cotton so far -- with 2 fronts and the backpiece barely an inch. I think it would go well.
A pleasant surprise
Yeah, got news that my galfriend is having a baby. She's going to the gynae to confirm this weekend. So a baby garment is in the works? I think I'll just hold the thought.
I showed her Saffron and she loved the color. Did I mention she loves lilac? Perhaps a shawl is in order...when Ms Saffron is complete.
On the renovation front
Nothing exciting going on. Still getting some quotations. Previewing another designer's showflat to see their worksmanship this weekend.
Ok, I am out. Going downtown to meet a coursemate who has just given birth.
It's just one of those things in life. There'll be a phase where a flurry of weddings invites get into your mailbox so fast and furious, and then interspersed with baby arrival announcements.
Durh... I am glad I am just concentrating on home renovations at the moment.