Here's a picture I promised, of my WIP. See I am working on it. Did it in the round as I couldn't bear the thought of following the colored blocked on the reverse as well -- on the round however, everything is done on the right side so mistakes are easier to spot and correct.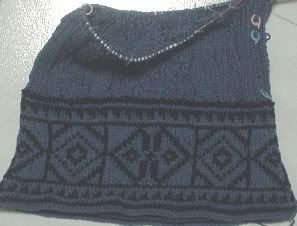 I am very lucky to have my Singapore knitting buddy turn up last Saturday. No one else came. Boo hoo! If you gals out there see this, please come the next time ok? Chrissie brought along lots of her past projects. Too bad I forgot to take photos.
Another peek: my Spotlight purchases
I have already started using the variegated brown yarn to start something...which I will show when it's done.