Finally, something to show as FO since I started my blog ;P


This: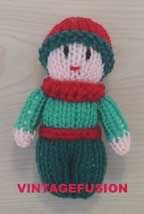 Isn't it cute that it's finally have a face?
And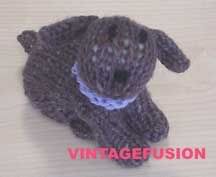 Yup, this is the secret thingy I was working on. Just curious how it was gonna turn out.

2 completed projects in a single day.
Yeah! I feel better already. You know that feeling right? Whenever you keep starting projects (and I *do* have a serious case of startitis) and then something comes along and distracts you, just like:-

knitalongs on others' blogs that makes you want to join

new issues of knitting magazines with projects that make you go: "I want this and this..."

going on full blown SeX (Stash Enhancement eXpeditions) and then realizing you want to try out all the

yarns you bought

having too much froggy pond trips with your current project

needing a quick thrill; after mounting a full fledge garment project

It'll take quite a bit of will-power to get yourself back on track and actually finishing it. Not dumping into the WIP pile, like I always like to. Small projects are far more exciting than big projects. But the showstoppers are always the frequent hi-powered seaming parties.

Which brings me to the subject of finishing:
They rank somewhat close to the bottom of my list. I seriously think that the ability to seam well and get fantastic results is very dependent on the mood one is, during the act. I don't like the act but I do realize it's a very important element to the end product. Finishing especially on small projects are so tiring that I would much rather knit a mindless stockingnet stockinette project for my hubby.
[Ha...wait till he hears this -- he's been begging me to knit him another sweater in fine cotton so that he could wear it in Singapore. He knows I am *sore* with him; having knitted

2 long sleeved & 1 short sleeved sweater in cotton and linen

(no photos yet, I haven't quite laid out those monsters for the shoot.) He hasn't worn them enough to justify me knitting another one for him. He's a dear for wanting them but I am not prepared to go 3mm to knit 350 stitches or more in the round for him!]


Well, not now for sure.