Belated....from me
Hubby's back! Yeah....but the anniversary present I had planned is a little late. *Always* I dunno why but I think I really some help on getting myself to be a good giftee; always a little hard-pressed for time.

He's such a dear. Bought me a cowboy hat like I wanted and a tin of cookies (with the oh-so-lovely Dog embossing on it... I will use it to store my stuff later.)
He's gone for a late night coffee gathering with his buddies so I hope I can get it completed by the time he comes back. Why am I*still* bogging away now?! Will show you pictures once hubby sees it.

Anyway, did I just swear off variegated yarn? Look what I've just got last Sat. I went out for lunch with Mom and found another yarn store. Nothing too exciting but I found this yarn cute enough to turn into a bag or something. Well, it's a BAG; not something that I'll wear; it's an accessory, not a garment -- it's, it's different. Oh well, you get the picture!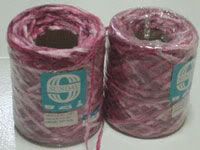 This color shows up a little murky on the digital cam. I am trying so hard not to start work in yet.
Clutter Management Expert Wanted!
Yeah, like I don't know. I think I need a WIP management expert to come in and take stock of my life! Re-sort my WIPs, yarns, books, magazines, patterns and the-what-have-yous... Perhaps there are some elements of truth in those who say that when the space around you in cluttered, your Qi is affected -- you just don't think and perform well enough.

Looks for our new apartment
I am still browsing magazines for our new apartment furnishing. Current trend here in Singapore is contemporary and minimalist. But it means no shelves and cabinets! Not quite for a stasher and a watch enthusiast under a roof eh?
This look, however caught my fancy. I think I just need to go for brighter ethnic accents.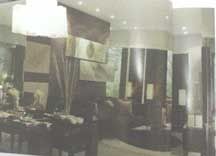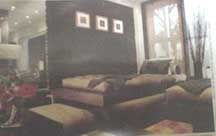 What do you think? I know, still not quite many cabinets or display shelvings but we could work something out?
And I just went on to take another quiz:

You are Shetland Wool.You are a traditional sort who can sometimes be a
little on the harsh side. Though you look delicate you are tough as nails and prone to
intricacies. Despite your acerbic ways you are widely respected and even revered.



What kind of yarn are you?


brought to you by Quizilla
Interesting but guess what, I have *NEVER* worked with Shetland Wool before! Does any one want to send some my way?