So you have heard about the belated anniversary gift that was in progress? Here it is: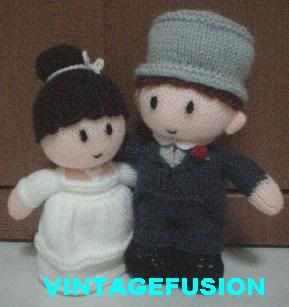 See, I told you I was in a toy-making phase.
Anyway, I was done with it on Thursday.
On Saturday, I decided to ransack WIPs and found a "coming-to-3-an-a-half-years" of age hoodie pullover. Nothing fancy, it was a pattern out of Woman's Weekly (UK) and I had knitted it using 12 ply Magnum. There was only one sleeve and the hoodie to seam up. What's the problem?

I looked closer and realized that the sleeves are a different dyelot from the rest. Now as I do recall, it's the usual "I-bought-too-little-and-realized-that-I-didn't-have-enough-yarn" situation. After knitting it, I decided it didn't appeal to me enough and threw it aside (kinda hoping that time will cause fading and evening out of colors?) And I *thought* it was a little too big, even enough it's meant for my younger sister.

Nevertheless, Mom saw and egged me on to finish it. Boy, am I glad. It feels so good to finish something. No pictures but I would try and post when it's gone through the washes. I tried it on -- for something that's acrylic, this is pretty warm.

And the fairisle bordered/cabled sweater?
I am sure you know what I did -- I just took hold of the sleeves today and started frogging to the beginnings of the cables. Started re-knitting. It looks much better now IMHO. Frogging is not scary; it's just the amount of time spent doing and un-doing. I guess one can pretty much compare it to the half-cup full; half-cup empty situation.

I prefer to see it as half-cup full and take it as a learning -- READ MORE CAREFULLY FROM NOW ON!


Just in case you are wondering why I have been so productive the past week:-
I've been given a week's worth of medical leave for my wisdom tooth extraction. And during the course, had developed some drug allergies. It didn't make me feel better but I was itching and scratching. Knitting became the therapy to keep my hands busy.
Not only that, I am determined to reduce the number of WIPs I have and promote them to FO status. I have never been more motivated. It must be the last confession post that made me see the problems and confront them head on!