Yup. Mystery guest came into Singapore and left here U$200 poorer but definitely happier. Talk about being a partner in crime...I was US$150 down. [No and you are *not gonna* see my yarn purchases nor will you hear about the pattern book that I just put an order for!]
:P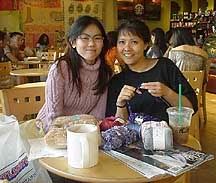 Lily Chin - the
fastest crocheter
in the world!
Hmm...in the crochet department, I can't even knit without my eyes leaving the piece for a minute, unlike knitting.
It was really gracious of her to agree to do a 14hr stopover in Singapore for a zippy stash acquisition trip! To plainly identify herself, she's even gone all out to carry a ball of yarn when leaving the arrival gates. (She's all casually dressed.) She has brought me some gifts and more importantly, I finally got to see her in person. (We missed each other the last time she went to Shanghai as I couldn't get time off work to travel from Beijing.)
It was a trip to Chinatown for dimsum lunch, followed by yarn shopping. After that, we went onto Kinokuniya for more magazine shopping.
She has also generously shared some tips and tricks such as the 2 circular needle knitting (which I never really got my head around until I saw her demonstrating it) and designing knitwear etc.
Well, Lily...let's hope we'll get to meet again!