Well, remember the last post where I mentioned I had a surprise gift for GT?
This is it.
A miniature clay birthday cake!
This is made using air clay -- meaning there's no baking needed. You just simply need to shape your project and leave it to air dry naturally. There are several brands available in the market, especially from Japan and Korea.
This is my second attempt at claywork so it looks a little wonky. Especially the flowers as I was trying to do it by petals. I did not use any tools or moulds (or is it mold?) -- it's all free-hand, except for a little toothpick I used to help indent the "icing" into the cake.
It's about 1.5 inches in height. It was obviously a tad small and ambitious. The entire process took me about an hour or so. I just went along and added the trims so there is no prior planning involved (although I am sure it will be much more efficient.)
My sister saw the photo and insisted that I need to have one made for my mom, my youngest brother and herself -- their birthdays are just days apart within the Mar / Apr period. Which is also the reason we had this faux cake so that we don't end up overdosing ourselves with cake and cream, resulting in high cholesterol!
I also had an earlier first attempt that consisted of bits and blobs of mini rosettes and hearts.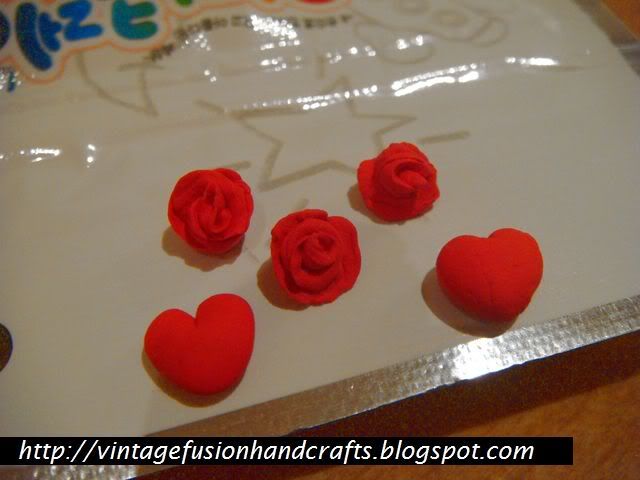 They are on average around 1 cm in diameter.Again, I have shaped all of these free style.
The only thing I have yet to figure out is how to keep the colors permanent. I realized that if I happen to touch the FO with a wet hand, the color would transfer. Perhaps a glaze or color fastener coat is needed?
Also, I noticed that when the FO is dry, there are some fine lines that will develop -- you can see them in the chocolate cake photo. I am not sure if it's because I wasn't kneading the clay sufficiently.
If you have any experience or suggestions, please do let me know!
I am having fun with these claywork and thinking of endless possibilities for their uses! But be rest assured that I am still knitting!