I dare say I am pretty proficient with crochet. I have been doing crochet for several years now; using both written instructions ala UK and American styles as well as the schematic diagrams favored by the Japanese.
However, in the course of working on my secret project, I am astounded by the amount of time and effort needed for Irish crochet. Take this motif as an example.
I call it a butterfly because of the curly flick.
This is the third crochet pattern motif called for in this project. It's barely larger than my palm but the first piece took me just about 40mins to complete!
That includes pattern reading, stitch counting, fumbling with the annoying center thread bulk and so on. Hopefully my pace will improve once I become familiar with the chart.
Did I mention that the triangular motif you saw last time takes me an average of 20mins once I gained speed? All that cutting and joining made me embark on a production assembly approach. i.e. I crocheted the center pieces first and then outlined with the Irish crochet work in a separate session.
On a side note, I was so inspired by
Deb of Chappysmom
's comment of making pancakes. And so I tried out a receipe yesterday morning. Perhaps it was the recipe I used or my limited cooking skills, the pancakes turned out rather flat and blah looking.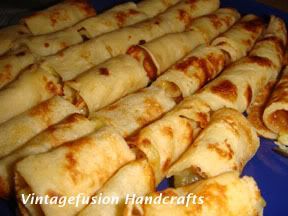 So I decided to make pancake rolls instead. I had 2 versions made:
butter and kaya fillings
orange marmalade
Luckily, they turned out pretty decent! Else they would have headed for the trash bin.
But seriously, if anyone has any great thick fluffy pancake recipes to share, I'll greatly appreciate it!