Thanks for all the kind comments & words on my crochet dress. The weather over the past few days in Singapore has been erratic and I've been busy so washing only took place today.
Here it is, our way of drying clothes -- hanging them on bamboo poles when we don't have dryers at home. I just threw it into the washing machine along with my other wool handknits and washed them on the wool setting. I am happy to report that everything comes out nicely.... no derangled or shrunk items.

Hopefully, the dress will be dry enough for me to try on by tomorrow; along with a more in-depth report on this project.


A knitty surprise from hubby
As some of you may be aware, my hubby was on an overseas trip recently. When he returned last Wednesday, he saw me crocheting away on my dress and asked my progress on his vest -- which regretfully, has been lounging in the WIP basket since I was *hell-bent* on trying breaking my own crochet record!
He is expecting his vest to be finished in the three weeks while he was away since he read about Leena's impressive record on her hubby's vest.


Then, without saying a word, he presented me with this: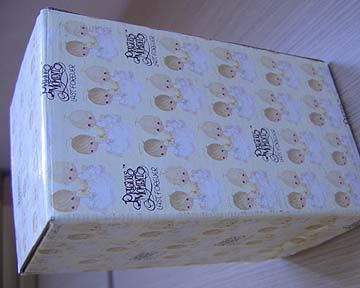 The contents?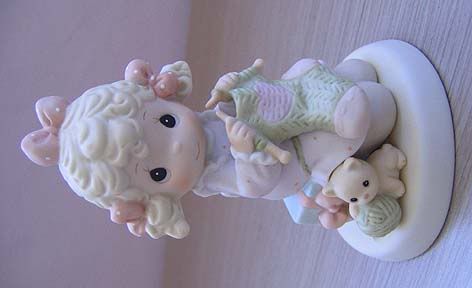 This is going to be part of my knitty figurine collection. And it goes to show what a nice guy he's always been. In fact, he is always the sensitive one whilst I am the practical of us two. He'll remember dates and plan surprises (yes, I've been told that he has already planned my gifts right up to the year 2007 -- for events like Valentine's, ROM anniversary and birthday etc.) while I am the one to go,

"tell me what you'll like for your birthday and I'll get it for you"

type.

He told me he saw this figurine on the last day of this trip and decided that he absolutely had to buy it for me. He also told me that he hasn't been successful in finding a similar one in Singapore though Precious Moments is also available here.

Then when I am busy admiring the doll, he reminded me to flip to the bottom to read...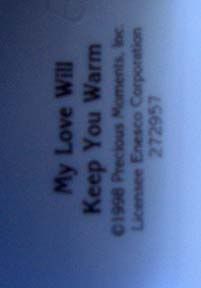 Literally *warm* indeed -- in Singapore's weather, it's hardly possible for him to don the various handknits. He's the guy who'll take delight wearing tees and jeans in the 12 - 14 degrees Celsius weather. He will not be persuaded to wear his sweaters unless his teeth is chattering! Hmmphf!
On the other hand, he likes the idea of receiving handknitted items from me [he's never been shy to let his friends or our tour mates know that he's wearing a sweater "knitted by his wife"] and makes his request once in a while (say, every 12- 18 mths or so) or when he feels that there's a likelihood that he'll never receive another item if he doesn't *check in* periodically.
Well, his thoughtful gesture has certainly elevated his vest up the priority completion list! LOL!