Hubby's vest is anything but exciting. Since the last post, the body is growing slowly.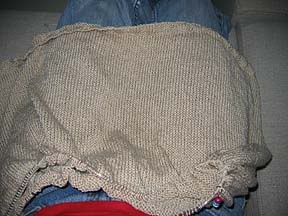 Look, it's probably enough mileage at the moment to be a short skirt!
In fact so boring that I managed to time myself and figure out that it takes me 2 hours to knit 110 meters/120 yards. And that if I am diligent enough, I can knit about 1.5 balls a day. So far, I have used 5 balls. My guess is that it will be probably another week's worth of knitting before this gets completed.
And he likes it to be loose and airy.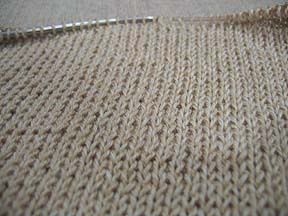 See the fabric drape? Love it but any looser; my tension will go wonky.
Besides the airy factor, he also likes his clothes long so it's a 46cm/18 inch knit-a-thon before it reaches the underarm. The vest is measuring 33cm long currently.
So I decided to get myself some distraction (or more likely, something that spells T-R-O-U-B-L-E)? The idea of knitting the round shawl is temporarily abandoned.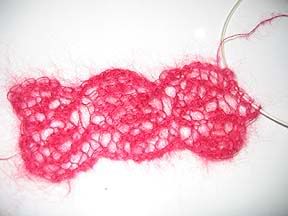 There you go, it's not my shaky hands.
This is the best I can capture so far since the hairy bits seem to make photographing difficult. Yes, it's making me sit up and pay real good attention.
Now I am really asking for trouble!
PS. Thanks for all the kind comments on Tinklebell and my student's shell. Her project is from a Japanese magazine: Keitodama issue # 112.