The round knitted shawl is moving along quickly. In fact so fast that by 2pm yesterday, this is how much it has grown.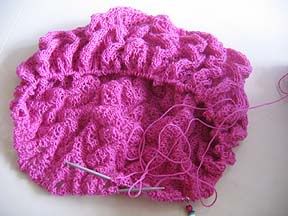 My galfriend says it looks more like a bag. What does she know? And by 7pm, while I am on the train (yes, I am a BIG believer of KIP1), I casted it off.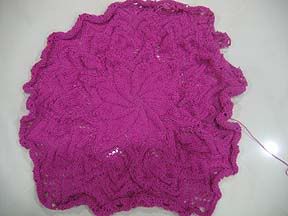 This is how crumply lace looks like. I wonder how others manage their artistic shots.
I should have been happy but I wasn't. When I got home, I tried it on and found it a tad too small for my liking. So what does a gal have to do? Rip back and add more rounds, of course!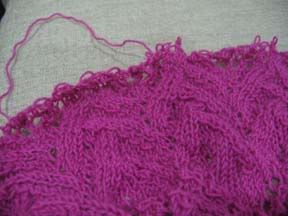 Just picture a woman with glazed eyes, looking maddeningly intense, frantically unravelling her work.

No lifelines, no coffee, nothing.

In less than 15 minutes, I got to where I wanted to be. And having fun working out the next steps.
I am not sure which is more cruel:
Ripping out a shawl with its ending round of 400+ stitches and back out almost by 10 rows?
(By the last few rounds, I was knitting each round of 400+sts for about 25 mins so that's like 5hrs lost?)
Or touching the finish line to be cried *foul* and sent back for re-run?
(Or be grateful that I am given the chance to learn more about charting increase round repeats?)

1. KIP = knitting in public