Metaphorically
Just mentally exhausted lately. Bogged down by too many things in mind.

Literally....
See my thumb & fingers?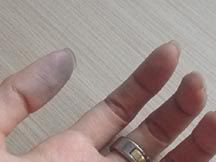 Everyone loves denim, don't they? I was working on a store sample using the Blue Jeans denim yarn that I carry. I mean, how else could anyone imagine its final result? As usual, the dark navy yarn just decides to hug my fingers. Here's what I initially created: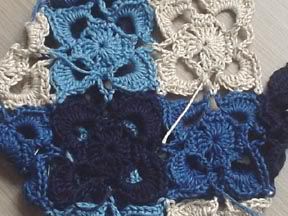 A pile of feminine, flowery crochet mess
Not quite suitable, you think? That's what I thought so this pile is gone by the time you read this:- heading straight to the frog pond. The good thing thought is that I've developed another pattern. So far, the work in progress is getting some wooing and aahing from at least 3 people who've seen it - I know, it's their plan to try & cajole me to gift it to them but I'm not budging this time. (Maybe not so soon, I mean, for goodness' sake; it's a store sample! It'll be lounging in my apartment or slugging over my shoulders for some time to come.)
Other than that, this week has been great...I've even managed a shot at teaching a kid knitting!
PS. Ok, so I do wish I can have a physical store....but in the meantime, just think virtual or home-based business.