There's no Baby C/KAL update this week as it seems that everyone's busy working on new projects or in the midst of completing others.

Here's the super secret baby project - a pattern I am testing for
Figheadh
.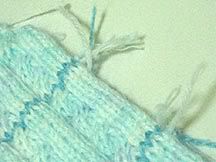 Look at all the ends!
Bring on the Baileys Hot Milk! I need that to soothe my nerves when I get to the seaming. You all know I'll get there, huh?
All is looking well; apart from a minor mishap at home that is yet resolved. Let's hope this project will be finished this coming week! Or another FO.
PS. I wonder if anyone actually knitted the

Zigzaging Shanghai Scarf (click on the words)

? I'd love to see pictures!
PPS. For those who are not adverse to a little alcohol, pour a shot of Bailey's Cream into a mug of steamed milk. (Just make sure the milk is not too hot else a layer of *skin* will form.) It's delicious! And a real comforter in winter. If you try it, let me know what you think of it ok?