...when we talk about stash size?
I have unpacked about 60 percent (I think) and this is where it is at. Is it decent, small or big? Mom thinks I have acquired the seX (Stash Enhancing acquXition) syndrome.


Just so you get a bird's eye view of my stash
(Remember, you are the second person to view this...my hubby hasn't seen it yet.)
And if you notice, my yarns are repacked so that they are all in transparent ziploc bags (others come in their default clear packaging) - it just makes yarn searching much easier from now on. Guess how many ziploc bags I have used to date now. I need to get more again this weekend - the ziploc bags, not the yarn.
Perhaps a inventory cataloging session is in order?


When I am unpacking, I also saw this FO which made me remember why I love to crochet lace.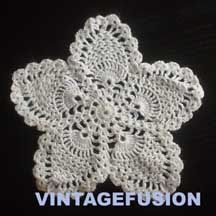 This is just so delicate looking, isn't it?
(Just pardon the no blocking efforts...)
Wish I am able to knit and crochet at the same time!