No, you won't get to see mine. The sock I am knitting up for my Sockapal2za partner is a size 9" whereas I wear size 6. So no modelling assignment this time.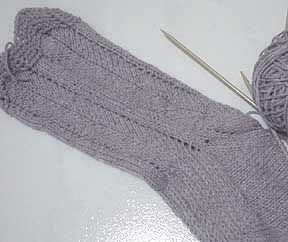 I have decided to use
Knitty's Broadripple pattern
- the pattern just shows beautifully on the
Rowan Cashcotton
, don't you think? Hmm, and I just realized the shade I have is called Chintz.

And you are seeing right: I have used dpns which is totally unlike me. Those dpns were sitting there on the shelf

mocking at me

as I searched in vain for some available circular needles to cast on.
But apparently, those 3.25mm circs have decided to join the WIP party bash and are terribly occupied. Not only that, the WIP party is organized in some well-obscured locations

(read: my sealed cartons that are now moved to the new apartment)

where I do not have easy access at the moment. Let the dpns mock and shame me, at least the project is off the ground!
However, the soft texture of Cashcotton going through my fingers more than made up for my putting up with the dpns. Would I dare dream of snagging this pair when it's done?
Casting on a 2nd pair is a solution. Perhaps
(until I attempt complete the other swap projects and WIPs, that is.)