I have been having weird dreams lately.

On Monday night, I dreamt that I was using some

Classic Elite Recycled Qiviut (?!)

and knitting using
Holz & Stein circular needles
. Alright, we all know
Classic Elite
isn't available in Singapore. And
Qiviut
is some rare breed that I haven't even touched. Where on earth did that word recycled even sneaked in? [I reckon that it might be the
Recycled Himalayan Silk
that I was balling up, by hand the other day.]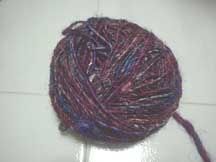 Apart from the recycled Silk, I haven't got any of the above. Must be my inner droolings or the limited knitting activities last week that caused this dream.


As if this is not enough, I had a foodie dream last night. I was dreaming of piping hot tau sar piah (it's a Hokkien pronounication for "bean biscuit" literally translated). If you want to know what it is, here's a
link
. (Check out the 3rd photo on the 1st and 2nd rows.) This website is a great place for you to check out all the fabulous local food if you ever decide to visit Singapore.

[Can't you tell I obviously love food?]



So now I have a craving for it. I'm off to lunch and to grab some of these.


In case anyone thinks I am slacking, here's a sneak peek of a project I am doing for a swap partner.