I seem to hit a wall with the recent
Knitting Meetups
that I tried to organize. It's either a timing issue or the responses just aren't as enthuasiast as I *hoped* they would be. So far, I've cancelled one. And the last 2 are consisted just of Cara and myself....Karen made a short appearance. [Oh yes, and Chrissie's PC died on her, so she didn't know if we are meeting last Saturday. She's excused.]

Perhaps come 2005, the meetups will be better? And the good news is, we could meet in the afternoons for Jan and Feb.

Anyway, last Saturday, I got to meet Siow Chin, from
Little Purl of the Orient
. We both arranged to meet at the Golden Dragon Yarn Store. Her 2 kids are lovely. Her DH came along to take care of the 2 kids, how sweet! Siow Chin, if you see this, remember to email me the photo ok?

After that, I went over to meet Cara. We both decided to *plonk* ourselves into the cushy sofas in the Orchard Library Cafe and see if there are any interests...lots of *whisphers* and *nudging* but no one has approached us. Cara thought it's best that we put up a Knitting Meetup tentee on our table the next time. That's a great idea.

Cara's swatching on her new project after a 2 year hiatus and
Chrissie's
completed quite a fair bit of projects. And me? Still on the damn lovely blue project...now on the body and getting there. I am giving myself the *deadline* of end Dec. Too many WIPs....Dear beary still in the bag with its bum sticking out at me...it will be done! (Sense my perservance?!)

Oh, and with reading many blogs, I think I need to go into a
YNBA
really soon. But hey, if a gal knows that she's not earning her own keeps for a while, it is ok for her to start hoarding up essential supplies? There, I said it. These are my recent purchases.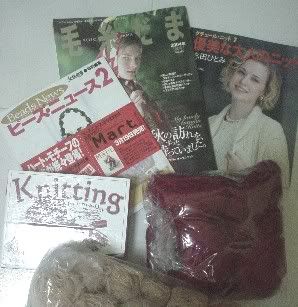 Alright, now I will really try to hold my purchases. But I will accept gifting anytime!

Amazingly, though many are touting the sold-out situation with the Knitting Pattern A Day calendar; I actually managed to get one copy locally here in Singapore! Yeah, at one of the open booth in the square, where they sell calendars, within Bugis Junction. Woo hoo.

See that bag of Kid Mohair? It's from Filatura de Crosa and it's only S$30 for the entire ball of 10?! Is that cheap or what...*dreaming of what to knit out of it* How about using it for
clapotis
?
I think I better stay away from surfing for a while..More projects keep creeping into the queue and I probably have enough to last a long while.
Any other business?
1. Holly asked, "Did you have her (LC) resign the Beaded Knit book?"
No, I didn't but I did get her to sign on my copy of the HYUK (read: Hip Young Urban Knitters) that I bought long ago.

2. My dear *secret* pal, Cherilyn has received the package I mailed (the 2nd time round) 2 weeks ago...


3. On the renovation front: We have still not appointed an interior designer yet. Still making our rounds. 1st round quotes are making both Hub & I gasp at *40 grand* price tags and that's not including the furnitures and accessories yet! Can you imagine how much yarn and vintage watches that will come up to be? I think we really need to break down the carpentry works into phases; and not go into this in one go.
I can smell burning smoke from our pockets.