Here's my bear progress. All parts. I am still working on the rest of the limbs and the ears. You could say that this is getting on fast! Just don't like the acrylic too much though -- used Australian's Panda Magnum 8 ply. Feels a little rough on hand. Wonder if it'll be softer if I put it through a wash?
Hmm...that's a thought. Should try it when I am done with making all pieces, before the stuffing though. Can't trust the polyfill even though it's washable.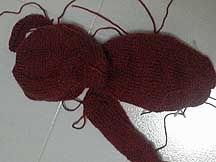 Still haven't yet look at the fair-isle project. Was too lazy. Will attempt to decipher it later. It's already 9+pm here.
Oh yes! And thanks to all who wished me happy birthday. It's so sweet of you! Tsk, tsk, it's bad manners that i forgot yesterday when I blogged. See how distracting those birthdays are, especially since I am approaching the big THREE - O (figuratively speaking) though technically, I am still 3.14mil minutes away from it?!