Not much knitting done for the rest of last week.
Anyway, what to know what I was up to? Watches!
Busy taking photos of our prized possesions and listing them for auction. Here's a sneak peek of our ebay listings which should end next week, if you are interested.
----------------------------
Remember the rant I had on the blue intarsia piece? I figured it's due to the pattern which says:
"cast on xxx sts. start with 2 purl rows with col A, purl 2 rows with B, purl 2 rows with A."



Now what's the problem, you might say?

The problem is: my cast on that looks decent is the long tail cast on which comes automatically with a purl row. So when you continue to work 2 purl rows, it creates

a tiny ridge

. A tiny but nevertheless, irritating ridge. THAT was what's eating me up!
And so later, I had an ah ha moment and decided that I should go cast on, knit one row with A, knit 2 rows with B, knit 2 rows with A and continue on, that's solved. (So happy, clap, clap!)
I have a WIP to show (using the new Clover Bamboo needles) but anyway, it's now ripped. The end gauge looks a little too loose for my liking. I have started it again, with a sleeve.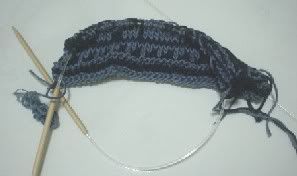 What to knit next
Here's a something that I am debating with. This: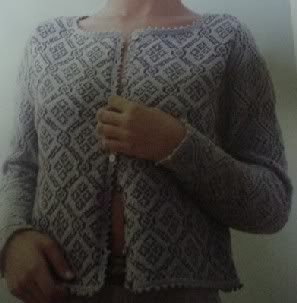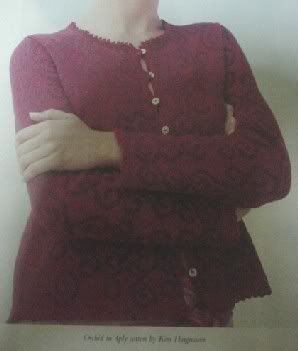 I think I like the Orchid (the lower design better).
Anyway, here's a picture of my mum's beloved feline. She's just so not-shy when it comes to posing. Talk about being at home!