I was miraculously awake at 3.30am this morning.

Couldn't get to sleep so I decided that I should get up and knit. Now on my 10th repeat for the shawl. I think I should get into the edging. It's more exciting to cast off as an FO!

Other WIPs in sight
Obviously shoving them into the cupboards don't work.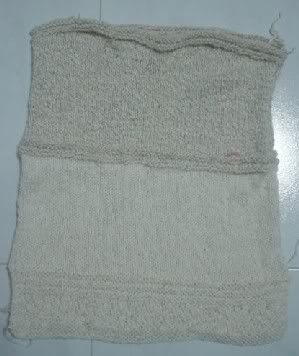 Can you believe that this is originally meant for a 4 year old? And it fits me!
Man, I almost couldn't believe it until I held it up to myself and then tried it on suspiciously. Well, this would be a gift for myself then. All I need is to sew the shoulder seams and neaten the armholes and voila! That's it...or isn't? Well, just have to work on it this weekend.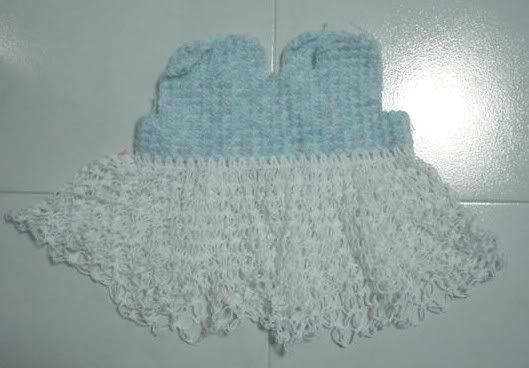 This is another something...a crocheted baby dress with double love knots* for the bottom.
Again, shown here with its halfway state.
Someone commented that it might be a little too small. Now, I haven't got babies of my own to measure against. So I'll just try ok? If it doesn't fit, then it could go onto a doll. I figured the lower portion is too lacy and open; I might add a lining underneath. I actually enjoyed working on this as the skirt is an all-round and is probably very flouncy when it's done.

What do you think of when your mind wonders?
When one has time on her hands, she not only knits but her mind wanders too. Think: shopping and knitting.

I am thinking of the
cover jacket of Poetry in Stitches
. There are just a couple of issues with it:

Sizing: The completed measurement is around 42" across which is waaaayyy too big on me. I am not quite sure how to adjust the sizing, especially since the front flap is off center so I can't really do the "remove a motif" approach.
Color: Great colors but I really do not want to go around in a 'standard uniform' like everybody else. Perhaps a customized kit is in order? Deep red...yummy.
Steeks: I have never done it before! I have no problems browsing online sites for help but I am not sure if I can do it unaided.
Earlier on, I was browsing elann's site. Saw some interesting stuff...some cotton & denim coned yarn. Maybe work out a little something for hubby? Sock it yarn for the
Mexicali Baby Ole' in Knitters Summer 03
is in order too -- mindless but the end results would look fantastic!

I must be really zonked out. Yeah, dream on.

(Yawn...)

Back to work.



*That's a new technique I learnt -- for picking this pattern...